The King Super 20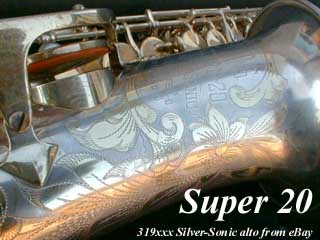 After World War II, King introduced the legendary Super 20. The early examples were essentially Zephyr Specials with more elaborate engraving, but with a different neck. This neck, designed by Fred Meyer (U.S. Patent 2533389 granted December 12, 1950; applied for August 27, 1948) was intended to provide more positive sealing and a lighter action, and became the trademark of the Super 20. The initial run of Super 20%u2019s had the three ring strap hook of the Zephyr Special, and mother of pearl key touches. The left hand pinky cluster was changed around serial number 300,000 and the sterling silver neck became an option around serial number 340,000. The mother of pearl touches were discontinued, but a Super 20 baritone was made available. A silver neck was standard on the baritone, and I have seen one with a sterling silver bell. The socket neck was deleted around 390,000 and at 426,000 the production was moved from Cleveland to a new facility at Eastlake, Ohio. The underslung octave mechanism was discontinued, and these horns are generally considered to be of lesser quality and not as desirable. King was losing money on every Super 20 produced, and the line was discontinued in 1975. However, there are reliable reports of Super 20 horns with high serial numbers indicating later production dates. I can only assume that these instruments were produced from left over parts inventories.1
Despite claims to the contrary, the Super 20 is not a completely redesigned instrument, but is little more than a Zephyr Special with added enhancements and features. Many of the changes involved the neck pipe, including an altered bore, a new, under-slung octave mechanism (called the "accelerated octave key") and a new leak-proof neck fitting. Additionally, the mechanism was slightly modified for a faster action, and the bell size was slightly enlarged.. As the success of the Super 20 established it as one of the best saxophones of its era, a sterling silver bell was added as an option. It was thought that the silver neck enhanced the response of the instrument, while the silver bell added a certian resonance to the overall tone. The combination of the two together with the mother of pearl inlay resulted in an aesthetically distinctive instrument that attracted many well-known saxophonists.2
The King Super 20 and Super 20 Silver-Sonic are known as two of the most legendary jazz horns ever produced... and they are JAZZ horns: a big bell, big bore and a wide-open, cutting sound. A lot of people like the Selmer Mark VI better, and it may be better -- for an all-around horn -- but the King Super 20 is the horn to beat in the jazz arena.
Unfortunately, the Super 20 story is a bit sad. Most companies try to IMPROVE their horn over the years. King actively made the S20's cheaper and cheaper until they eventually discontinued them altogether. Read on before you flame me!
Series I
s/n: 272xxx to 295xxx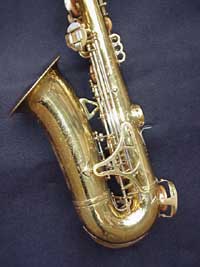 The original series of Super 20 horns was produced from serial number (appx.) 272xxx to 295xxx (from about 1945 to 1949). They were based on the most beautiful horn I've ever seen, the Zephyr Special -- and shared many of that horn's attributes:
Similar bore size, but redesigned neck and slightly enlarged bell
Three-ring neck strap hook assembly
Pearl keytouches on the LH altissimo keys, G# key, octave key, RH altissimo E, and on the RH chromatic C, Bb and F#
The optional solid-silver (double-socket) neck for the Zephyr Special became standard for the S20.
Elaborate floral engraving on the keycups for low C, C#, B and Bb
Flat metal resonators
But there were also significant improvements:

More ergonomic key layout and improved feel
Better intonation (this is always hit and miss for the S20's -- the horn was hand assembled)
Improved key bumpers and "pant protector" (the latter of which became standard for the later Zephyrs)
Possibly one of the best features (and one that defined the S20 for years): an underslung octave key on the neck (although some of the earliest S20's may not have had this feature)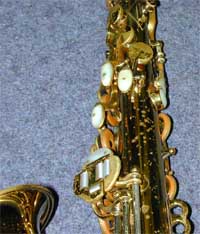 The S20's were available in lacquer or gold plate. I have heard murmurings that there were horns in silver plate, but I've never seen one -- and can't find any further documentation to back up that claim., but it's probable that they were available with the same finish choices as the Zephyr Special.
The Super 20 baritone was not available, yet. You'd have to get a Zephyr. This practice was pretty common: companies wouldn't retool for baritone (or soprano) saxophones until later in the production run of a particular model (possibly to wait until there was higher demand for these horns)
Series Ia (Transitional)
s/n: 295xxx to 305xxxx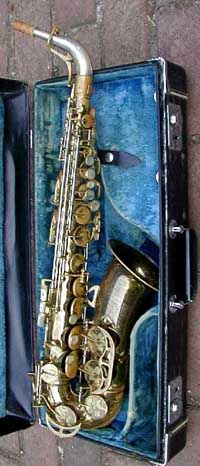 This is an addition based on reader comments, both via e-mail and from SOTW.
The first series, up to 305K, should be broken into:

Up to 290K or so
Up to 305K.
The early group actually had a G# cluster SUPERIOR to the later. Its flat pearl G# was hinged from bottom to top like a 10M which gives a much better feel than the over-290K horns which have the "backwards" G# hinged from left to right. Of course, at 305K they went to the Selmer-style right-to-left hinging or "balanced action."3
I am guessing that this serial number range represents a transitional horn. The triple strap ring of Zephyr style is replaced by the single like "series II" and beyond, the LH pinky table leaves the "Zephyr" LH pinky table behind and begins to resemble the next generation (BA type) table with rounded pearl G# and no "wrap-around" Bb -- but, with a backwards G# hinge and the B/Bb/C# rods still on the back of the horn with the triangular pant protector. The C/c# cup engraving (and engraving on the bow) remain. This is a very limited # range (appearing to be only 10,000 #s or less -- from 295,xxx - 305,xxx). After 305xxx the C/C# engraving dissapears and the LH pinky table and rods (along with the actuating mechanism of the B/Bb cups) get a reworking.
I recently played a tenor from this vintage for the first time and it is a superb instrument. extremely full low register with plenty of "KingThing" or "SuperStuff" throughout. Also producing a darker sound in relation to the post 305xxx horns I have played. (I have to say it was very difficult to find a good/clean/tight/original example of this vintage.)4
Series II
s/n: 305xxx to 340xxx
Between 295xxx and 310xxx (1950-51), we have the only real feature additions to the Super 20: better keywork (particularly the G#/C#/B/Bb cluster) and the addition of the Super 20 Silver-Sonic -- a Super 20 featuring BOTH a sterling silver neck and bell. (Also available in lacquer, [allegedly] silver plate, and gold plate -- with 14k gold highlights on the bell. Check out a Silver-Sonic ad) BUT, along with needed additions come the first three subtractions: the diamond-shaped pant protector, the three-ring neckstrap hook assembly, and engraving on the low C & C# keys.
Other than these two additions (and three subtractions), the S20 series remained the same until serial number 340xxx (1955).
An amusing note: King produced a Silver-Sonic metal clarinet back in the 1930's/early '40's, when most companies produced metal clarinets. You occasionally see one of these pop up on eBay as a "rare King Silver-Sonic soprano sax!"
Series III
340xxx to 380xxx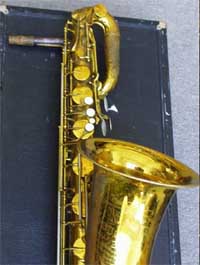 The next series of S20's is the batch of horns produced between 340xxx and 380xxx (1955 to 1962).
More subtractions:

The sterling neck became an optional item
The pearl touches on the LH, RH palm keys and G# key disappeared
One addition: The Super 20 baritone (yay!!!).
This horn was only available with range to low Bb (probably because of bore size -- low A horns have a skinnier bell and [arguably] don't project as well) and had an optional sterling silver neck. There are, unfortunately, no Silver-Sonic baritones listed in any King catalogs that I've seen and I've only seen baris in lacquer.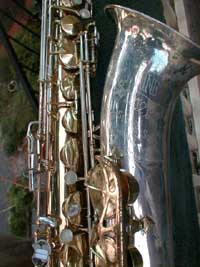 In approximately 1960, King entered into a partnership with SML and imported some of their horns into the US under the name of KING MARIGAUX.
While the Marigaux is 100% an SML, it did occasionally share designs with King S20, most notably a rumored model with silver neck & bell.
This association was entered into for two reasons: to give King a professional-quality soprano once again (King hadn't produced a soprano since the Voll True) and to give them a marketable "classical-style" horn. I suppose that the Selmer Mark VI was starting to dominate the market, Buescher was soon going to be sold and the Conns were fizzling out ... in other words, well known jazz/big band horns were dying out of the market and King, producing a definite jazz horn, had to do something to maintain a positive cash flow.
Also, King introduced the OCTAVOICE system for their horns 'round about this time to compete with the Selmer Varitone system. It was a slight misstep for King to do this -- the Varitone never amounted to much and, as with the Varitone, you have to damage your neck to have the pickup system/audio-processor attached to your horn (note the little "cap" on the neck in this picture).
Series IV
s/n 380xxx to 426xxx
The next series of horns came in rapid-fire succession between s/n 380xxx and 426xxx (1962 to 1967): lots of experimental changes in bore and keywork and the elimination of the double-socket neck.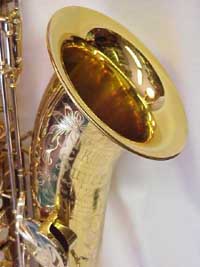 Series V
s/n: 426xxx to appx. 540xxx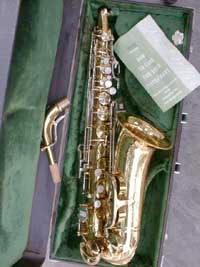 At 426xxx, the company was purchased by the Seeburg Corporation and moved to Eastlake, OH (you can note the engraving changes on the bell from "Cleveland" to "Eastlake").
While some of the horns produced during this time have exceedingly good power and intonation, they're kinda the King "Mark VII": i.e., Selmer introduced the Mark VII after the most celebrated and most successful horn in history, the Mark VI. The VII's weren't all bad, and some were excellent, but they were so different in style from the VI and varied so much in quality, Selmer really should have called 'em something different -- and not marketed them as a successor to the VI.
At the very least, these later S20 horns have a bit less character than earlier S20's and are not as valuable.
Baritone sax production probably stopped at about this time, as well.
You may have noted I changed the serial number range for this series: it's based on reader comment. It seems we've got someone out there with a 534xxx horn that has the underslung octave key and Eastlake engraving :)
Series VI
s/n: 540xxx to appx. 800xxx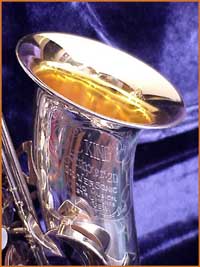 There is a bit of a break in the history I've been able to come up with. Official serial number charts list 1975 as the final year that King produced the S20's, but there are obviously much newer S20's out there!
In about 1981 King was purchased by (excuse me: "amalgamated into") UMI and the Super 20 is gone from all serial number charts that I've seen %u2026 but you could still get Super 20's up until about s/n 800xxx (s/n 788xxx is the highest I've personally been able to verify, and that'd be a horn made about 1998 -- extrapolating from how many horns King produced per year).
I can say that the horns after 511xxx have "USA" engraved on the bell instead of "Eastlake, Ohio" (UMI headquarters is in Nogales, Arizona -- about two miles from the Mexico/US border) ... and the underslung octave key disappears in favor of the standard "over the top" style.
My opinion, combining the three or so different opinions on why there are Super 20's much newer than what the serial number charts indicate, is that UMI found that they had a stock of Super 20 parts ("blanks") and would assemble a few, engrave a serial number and then ship it on off. However it's also possible that the horns with higher serial numbers were produced in or available only in Europe -- the 788xxx horn I saw was at a music store in Germany.
The really odd thing is that from s/n 7355xx - 736xxx (1995 to 1996), King/UMI tried to revive the Super 20 with the Super 21: an "experimental" horn produced in limited quantities -- WHILE the Super 20 was still available.